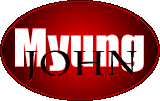 "I'm not a solo maniac. I'm a team player. The way I get the most out of myself is working with a very good combination of people. And those are the ingredients of Dream Theater."

John Myung - Bass
Full Name: John Ro Myung
Birthday: January 24, 1967
Height: 5' 7"
Hair Color: Black
Eye color: Black

Equipment: Six-string Tung bass, Mesa Boogie Amps (Tri Axis modified, 400+ power amp, Strategy 500), Mesa Boogie power house cabs, 8X10 cabs
John Myung was born on January 24, 1967 in Chicago, Illinois, and moved to Long Island, New York, with his family when he was a young boy. John says that his mother always listened to classical music and so at age 5 he began violin lessons.
When John was 15 his next door neighbor approached him to play bass for his band, assuming that since it had four strings like a violin he could learn it easily. Although it turned out to be a totally different instrument, John took to bass very quickly and has never picked up a violin since. His current bass of choice is a six-string Tung.
John's main influences include Chris Squire, Steve Harris and Geddy Lee and their respective bands Yes, Iron Maiden and Rush. He also listens to bands like Jane's Addiction, King's X and The Red Hot Chili Peppers as well as classical and blues.
When not on the road, John likes to go fishing, exercise and read.
* Taken from the Official Dream Theater home page.
Headline quote originally published in Guitar Player Magazine, January 1990.

[Home]
[Albums] [Bio] [Media] [QUIZ]
©1998 {\/}ë†zÆ Productions. All Rights Reserved