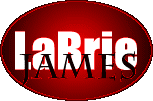 James LaBrie - Vocals
Full Name: Kevin James LaBrie
Birthday: May 5, 1963
Height: 5' 10"
Hair Color: Dark Brown
Eye color: Blue

Equipment: Shure 58, Samson wireless microphone
Kevin James Labrie was born on May 5, 1963 in Penetanguishene, a town in Ontario, Canada. Inspired by his father, James started singing and playing drums at age 5: "My parents say I was tapping on everything so if they didn't get me a drum set, I'd ruin the house!" By the age of ten, he was performing in a barber shop quartet with his father, uncle and brother.
Yet James' real love was rock music which he pursued by his early teens. At age 21, he began vocal training with the renowned vocal coach Rosemary Patricia Burns. After working with several Canadian bands, James became the vocalist for Winter Rose, which almost signed with Atlantic Records. Then Pierre Paradis, who managed the band Voi Vod, approached James regarding a solo project with Aquarius Records. He also told James about a New York based band called Dream Theater who were looking for a vocalist. The rest, as they say, is history.
James' musical tastes are quite varied as he names Metallica, Aerosmith, Van Halen, Journey and Judas Priest as well as classical composers Mozart, Vivaldi and Beethoven as favorites. Influential vocalists include Steve Perry (formerly of Journey), Freddie Mercury, Sting, Paul Rodgers and Nat King Cole. James continutes to practice with Ms. Burns and encourages other vocalists to pursue formal training.
When not on the road, James enjoys camping, downhill skiing and reading. His favorite authors include Anne Rice, Dee Brown, Robert Utley and Forest Carter. He currently lives in Toronto with his wife Karen and their cat Tika.
* Taken from the Official Dream Theater home page.

[Home]
[Albums] [Bio] [Media] [QUIZ]
©1998 {\/}ë†zÆ Productions. All Rights Reserved